I am so happy for them!!! We lost both our cats in the last few years (15 and 16) and my parents have been waiting. We have a dog, but no more kitties. A friend of the family who has 3 siamese in the house, but also has a barn and takes 'unhomeable ferals' from a local rescue once they are spay/neutered as barn cats. Most of them are really wild and cant even be a pet, but atleast they have a warm safe home with food!
In anycase one of them got mixed up in the process it seems because she is an absolute doll!! But she went missing for a few days and our friend found her shaking and starving in a hay feeder!! She was being beat up by another wild cat and couldn't defend herself so she brought her in the house!
Turns out she is TERRIFIED of other cats and just hides whenever one of the siaemse come around, even though they are pretty friendly. For now she is living in the dog room (loves the great dane and the boxer) and gaining weight, but because she is SO people friendly this situation wouldn't work! SHe needs a home where she can be with people all the time! Also she doesn't have any interest in going outside, even though we live in the country our road has gotten busy and my parents really want an indoor only kitty.
So my parents have agreed to take her!!! She will be an only kitty in a one dog house so I think she'll be quite happy!!
ANd isn't she gorgeous?? her tips of her ears are gone from frostbite.....
They are going to get her in early january!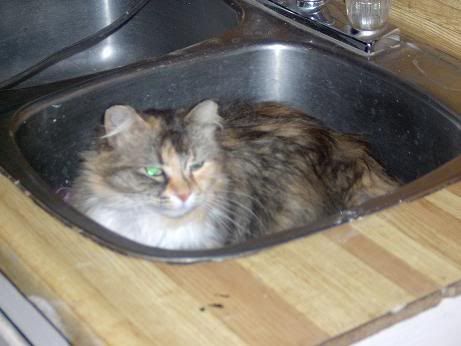 Another happy ending!