A cardinal flew into our window
offline
1,324 Posts. Joined 8/2007
Location: Leafs Nation
......he's OK!!
and beautiful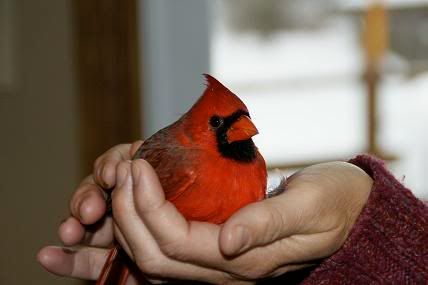 Mom to a BUNCH of furbabies!

offline
5,123 Posts. Joined 3/2007
Location: South East Iowa
Oh my goodness!!!!!!!!!!!!!!!! How GORGEOUS!!!!! I just love him..... I would have a hard time not keeping him for a pet
But I would just tell myself again and again he would be sad inside
offline
2,509 Posts. Joined 9/2005
Location: Maine
Glad hes ok. What a treat to be able to hold a cardinal in your hands..
Love them fluffy britches!

offline
18,768 Posts. Joined 12/2004
Location: SW Indiana
Beautiful male.

My sis had a female who liked to peck her deck door or the side mirrors of the cars.
Until we meet again~daddy

offline
10,169 Posts. Joined 3/2006
Location: Podunk, Kansas
What a beautiful birdie!!
So glad hes ok!!
Babygirl you will always be missed.

offline
17,439 Posts. Joined 6/2006
Location: Birmingham
Wow how neat is that .... what a beautiful bird he is
TCS gardening queen

offline
11,559 Posts. Joined 5/2004
Location: Wisconsin
If you go to a specialty bird store you can by UV decals that stick to the outside of your windows. I have birds hitting my windows quite alot and since I've gotten these decals it isn't happening.
offline
1,324 Posts. Joined 8/2007
Location: Leafs Nation
we have the decals and almost never get birds flying into the window anymore so this was quite a shock!! Had to bring him in though so the resident ferals didn't get him!! after about 10 minutes he was over being stunned and flew away!
Oh my gosh, he is beautiful! I wish I got to hold a cute cardinal in my hands.
Foster Meowmy Extrodinare

offline
22,224 Posts. Joined 4/2005
Location: USA
omg how beautiful is he! that must have been soo special to get to hold him in your hands!
offline
349 Posts. Joined 7/2007
Location: Denver, CO.
Wow, so pretty...=o

Once, when I was in middle school, I was walking to school, and I found, in the grass, a little starling. It was winter, and the dew on the grass had frozen, and it was very cold. This poor little starling had frost and ice all over his back and wings, and didn't even move when I walked by him. I picked him up and kept him in my pocket for about ten minutes, as I walked, and then he started struggling, so I lifted him out of my pocket, and he flew away. =) I felt so happy that I might have saved his life, since there were (and still are!) SO many feral cats in that area...Thankfully, I didn't catch any zoonotic diseases from it, and I hope he lived a long healthy life.

I'm really glad that your little cardinal was okay and got to fly away safely. =)
offline
1,350 Posts. Joined 10/2007
Location: Buried under the cat
That would make a FAB Christmas card.
offline
7,579 Posts. Joined 6/2007
Location: In the middle of BC
Quote:
Originally Posted by
StarryEyedTiGeR
omg how beautiful is he! that must have been soo special to get to hold him in your hands!
He is gorgeous, you are so lucky
Susie & Bailey/Emily, one happy family!

offline
21,674 Posts. Joined 5/2004
Location: Ohio
I am very very jealous! I just love cardinals and they seem to have been popping up everywhere lately......what a gorgeous bird!
offline
309 Posts. Joined 7/2003
Location: Massachusetts
I love Cardinals. They brighten up an otherwise long winter.
A few years back this little fella flew into my window. Like the Cardinal it took only minutes for him to recover then I released him. I was afraid the neighborhood cats would get him.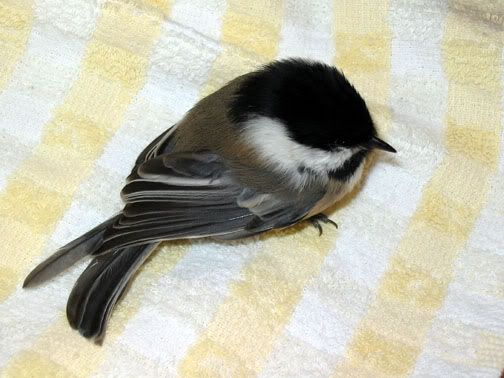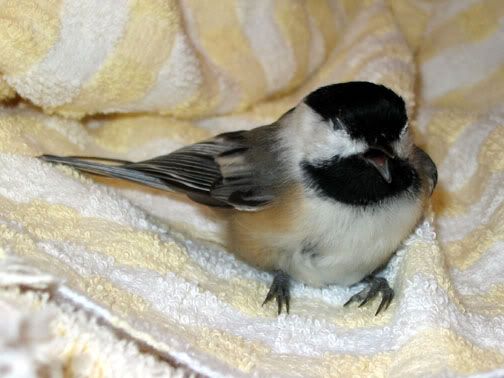 In the 2nd pic, he had his eyes closed and was 'panting'. Poor fella was in shock but he came around pretty quickly. I'm amazed he didn't break his neck.