As many of you know, we used to live full time in the RV. All of our kitties except Ming Loy spent the first few years of their lives in the RV.
Now that we live in a house, we've been able to turn the RV into a kind of "Cat House" (
) on wheels. We cut holes under the bed, and instead of storing stuff there, it's full of cat beds, boxes, and hidey places for the kitties. We put a long tube and beds up in the front window once we're parked, and we took out all the furniture and put in cat trees instead.
This is the second trip we've taken with the kitties since we moved into a house - and this time as well, they were all extremely happy campers! Even Ming Loy gets into the groove - though Tuxedo and Flowerbelle always seem the happiest to be back in the RV.
Kitties at the window (left to right: Spooky, Ming Loy, Sheldon)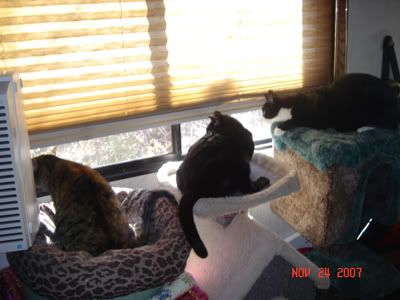 Tuxie enjoying one of the overhead cabinets: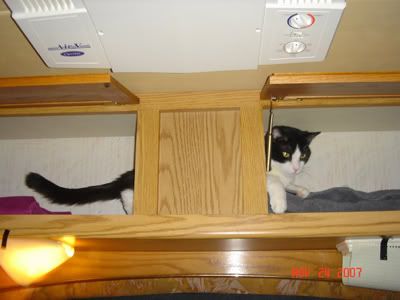 Ming Loy at the window: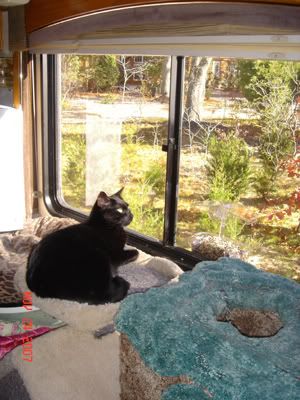 Flowerbelle on her perch at the top of the tall cat tree (she's deaf, so she always waves her paw for attention - and it's always in motion!) :
Lazlo in the cabinet he took over: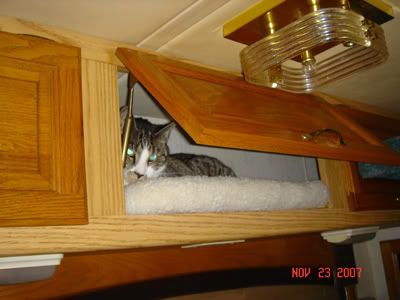 Laz and Shel on the tall cat tree: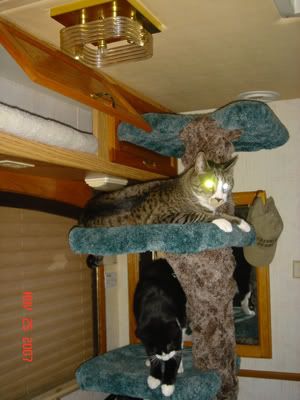 .... I can't seem to find other pics of the front of the RV that we had. I think I might have erased them by mistake!
The kitties had a very happy Thanksgiving!
Laurie