Poor Fang
offline
2,244 Posts. Joined 1/2006
Location: philadelphia
pansy thinks he is a pillow.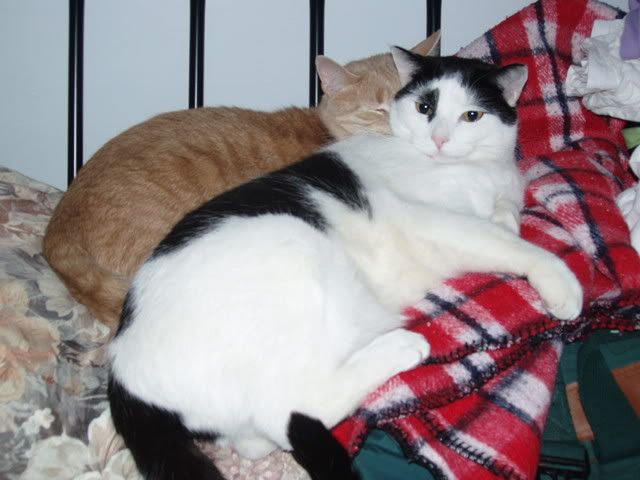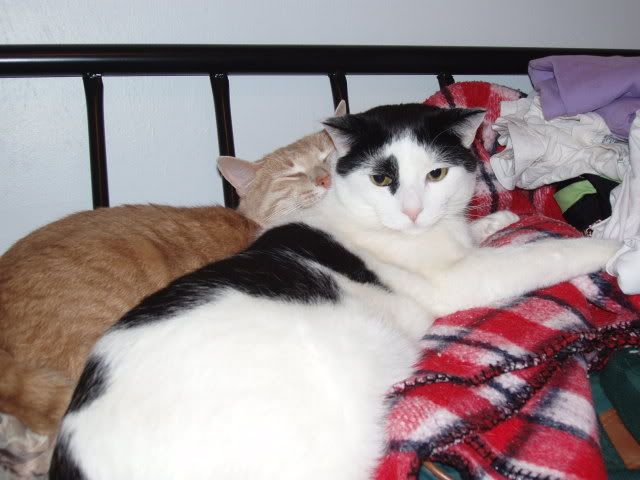 offline
1,595 Posts. Joined 10/2007
they are both really cute
Foster Meowmy Extrodinare

offline
22,224 Posts. Joined 4/2005
Location: USA
aww how cute!
Missing my Zig's

offline
1,359 Posts. Joined 8/2007
Location: Exeter, South West, UK
They are so sweet. Pansy has really cute ears
Witty comment goes here...

offline
6,754 Posts. Joined 5/2006
Location: Under a pile of dirty diapers
Awww I think Fang was cold.
A cat is just a bundle of purr

offline
20,149 Posts. Joined 6/2005
Location: Colorado
When it is cold, it is nice to have a heated pillow.
Love them fluffy britches!

offline
18,768 Posts. Joined 12/2004
Location: SW Indiana
Just making him share that warm throw!
Feisty Feral!

offline
41,294 Posts. Joined 6/2002
Location: Fighting for ferals in NW NJ!
I'd feel bad for him - but he looks SOOOOO happy to be used as a pillow! I love snuggly kitty pics!
Laurie
offline
32 Posts. Joined 11/2007
Location: The Netherlands
Haha, great pictures!
It made me laugh...
And beautiful cats you have!!
All kitties need love!

offline
20,447 Posts. Joined 11/2005
Location: NE OH
Fang really is getting a little squished there