Does anyone have a pet with a health condition or illness that they have to deal with every day? I have a 5 year old JRT with Megaesophagus, she was diagnosed with it about 3 years ago, I had to fight for the diagnosis which cost about £1000 all in all as they messed up an xray. It was a very worrying time, she was regurgitating food after every meal and was throwing up liquid all the time especially at night. I was constantly cleaning up after her and was so scared I was going to lose her. We got the diagnosis and it turned out she had aspiration pneumonia caused by the Megaesophagus which can be dangerous, she was put on steroids and antibiotics. Thankfully we got it cleared up and she's not on any medication now but I have to feed her 4 small meals a day in an elevated bowl, she has to have a harness instead of a collar and her water has to be elevated. I have to watch what treats she has and she often coughs up water after she drinks. I'm always scared she'll get the pneumonia again, the fear never really goes away.
She's doing good now
: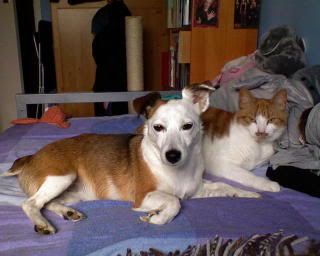 Poppy with Fable at my mum's, taken this summer when I was briefly living there.
I know Poppy's condition is pretty easy to manage, it's the worry really that's the worst thing. I was wondering if any of you had pets you worried about all the time because of a condtion.