Just had to stop in and start a Daily Thread at the start of the new day GMT. (Since so many members are around that time zone
)
Hope all is well with you and yours (being as I haven't been around in a few months, yours may have changed
) Things are
CRAZY
in my world sometimes, with alot of things changing for the better all the time!
Not alot to report on the weather front here except COLD (
I still hate winter!) I know my dear friend Kenz (babyharley to you who might not know her real name
) LOVES the snow
, but some of us aren't so fond of it. I think a snowflake is as unique as some of the special friendships we make online, and would hate to miss out on all of them. But just a few flakes, okay?
And what would the Daily be without the holiday???? Artisan Day, so hat's off!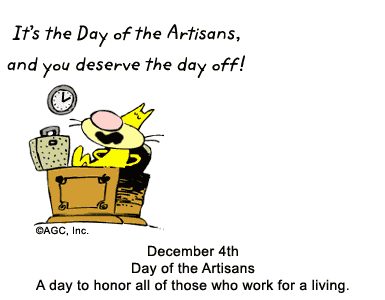 Have a great day, cat peeps!