I posted a couple of months ago about my Dad being converted to a cat person. Well this weekend I made a quick trip to see my Grandparents (Grandpa had some surgery) so Dad brought his cat down to see me. So far his name is still Mow. And Mow is definitely a BOY!
(Dad and his GF first thought he was a girl, but he's a boy all right! Dad asked how I knew....
) Anyway! Meet Mow!
Mow looks a lot like Noodles in some shots. I need to manually fix his red eye sometime... He's a big cat, about 16lb is my guess and he's just pretty large in height too. Even his paws are much bigger than my cats.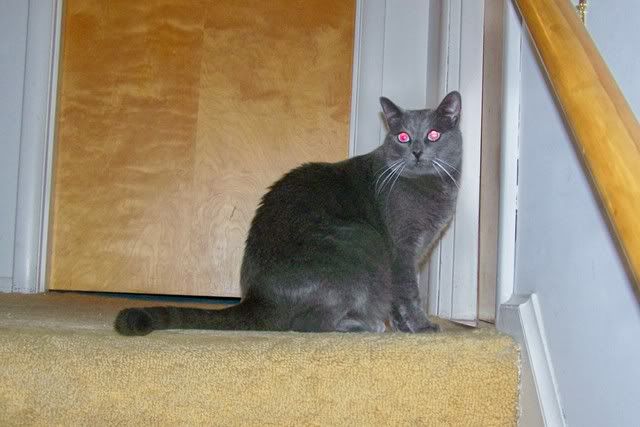 Naughty getting on Grandma's kitchen table, but sooo cute!
A good shot of his eyes. Notice how they are a bit bluer right around the pupil? I am sooo in love with him! (I cropped Dad out just to post this here. I don't think Dad goes for posting his picture on-line!)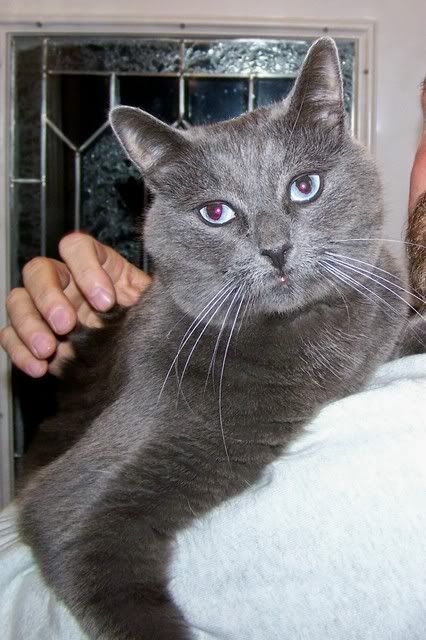 In case anyone is wondering, I'll summarize the background story on Mow.
Mow came to my Dad through a co-worker. He showed up at their house about 8 months ago. The co-worker and his family did everything they knew for 6 months to find his owners. He's neutered and front-paw declawed. So he had to have belonged to someone at some point! He's also extremely friendly. If you pet him, he flops down for belly rubs!
So the co-worker had been keeping him in their garage and screened in breezeway. Well it was getting colder out, so they though it was time to find him a permanent home. (the co-worker had allergies) So he came to my Dad, who is more of a dog lover. Initially they thought he was a she. Dad said they've been calling him Mow so I think that's his name now. Initially it just came as a nickname while they were thinking of something. He's an awesome and HANDSOME man and oh I could have taken him home!!! He's a total sweetheart!
We don't know his background more than what I've already said. I've suggested when Dad vets him, having him micro-chipped and things.