It's been a week and 3 days since we adopted 4-month old Miles. The introduction is coming along slowly. Sometimes it seems to be two steps forward, one step back, but I'll take it!
Here's Day 2 of the introduction. Miles is behind the door.
Day 5: We let Miles out, and they can actually be in the same room for a while without Shelly chasing him!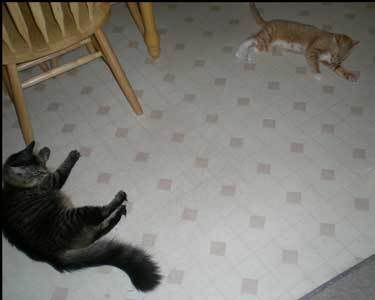 Day 8: OMG! They are less than a foot from each other! Look at the paws! No bare claws!! (Of course, two minutes after this picture was taken, Shelly chased Miles into the other room and we heard "MEEoowwrrr!" and "Pfffffttt!" and more chasing
)

Today: After an intense session playing with (or was it fighting over) an empty Lego box, they needed to rest. I think they forgot for a minute that they didn't like each other yet!