Hello all,
I've just joined the forum. I've got two six month old kittens named Oscar and Lily and a year old rescue dog named Jasper who all get along great. I've posted in the health forum as poor little Oscar is very sick at the moment with enteritis. My last cat died last January aged 12 years of kidney failure following an operation and I hadn't planned on getting another cat for a while, but fate stepped in in the form of a neighbourhood stray who chose my house as the ideal place to give birth in (a mere two weeks after I adopted my rescue dog, so I went from no animals to six in a fortnight!). The mother has been spayed by me, but doens't really live here, as she's very independent - she comes by for a couple of hours every day (and keeps bringing her babies mice
), but visits half the neighbourhood as well...
Mother cat,Oscar and Lily enjoying cheese.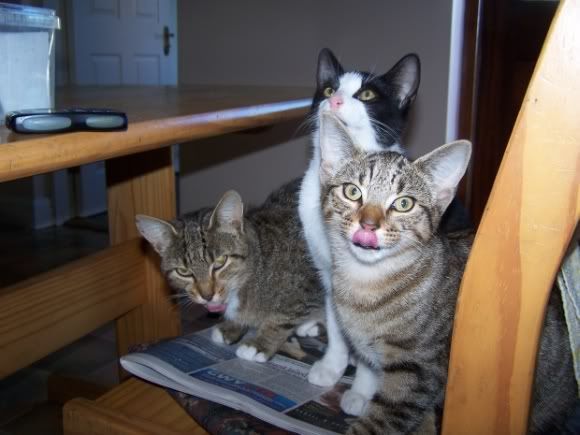 Oscar and Lily aged four months.