When we first got Lottie and Lily (mine and my twin's kittens):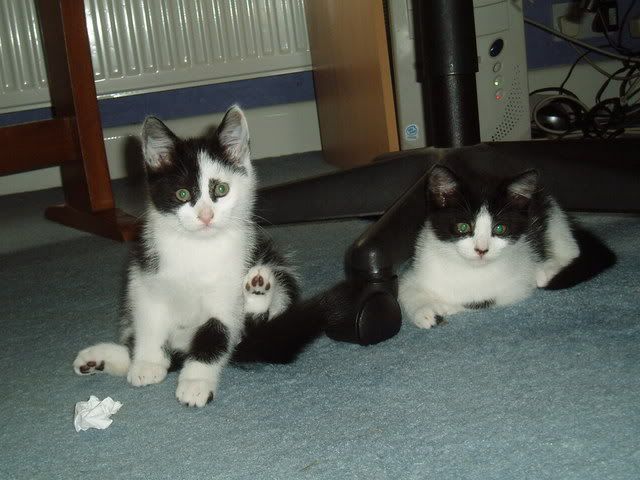 We were told they were fully litter trained. Which they were. They have their own little room which was our old kitchen, with their bed, their litter trays (they have two) and their food bowls (away from the litter trays) and their toys.
They had the occasional accident, but otherwise they've been fab for the past couple of months we've had them. But the past few weeks they've started weeing on the carpet in the living room, the hall, and the floor in their room (which is kind of plastic tile stuff, you know lol) and all over the mat in their room, which is a rubber based mat, which I've heard that they like to wee on, but nobody knows why. We just can't keep the mat in there anymore.
It's getting ridiculous now. The last two days we've had to get down on our hands and knees and scrub floor after floor, and some of the old kitchen floor is now stained yellow. So we have to bleach it or something.
Help!
lol why have they suddenly started weeing outside their littertray. They are weeing in it too though.
They have two litter trays. They aren't under any stress- they are clearly very happy, and spend their time sleeping, playing and eating lots of yummy things. I know they have a fab life. We clean the litter trays out often: in the morning when we get up we pick out the solids, and in the afternoon and again before we go to bed (if there's anything in there) and every couple of days we clean the whole thing out properly.
Can anyone help? Would be very much appreciated.