Reading whitecatlover's adoptables thread the other day lead me to ask my DH about maybe getting another kitty. He finally agreed, but only if it was a kitten (hoping it would be more readily accepted by the resident crew). So we looked at the local shelters, but there was nobody who really stood out and said "HERE I AM, I"M YOUR NEW BABY!"
So we talked some more, and DH told me maybe I should look into getting a Ragdoll. He knows I've always wanted a Rag, and since this would be Cat #4 for us, he said I either get one now or I'll have to wait until someone else is gone from old age.
So I got in contact with a Ragdoll breeder who had available kittens, and saw photos of two of the most adorable little kittens I'd ever seen. I couldn't decide between them. So I told DH, "Look at these pictures and you decide." He took one look and said, "Well we'll have to get both of them!"
So we're picking them up on Saturday!!!!
So here they are! This is Griffin: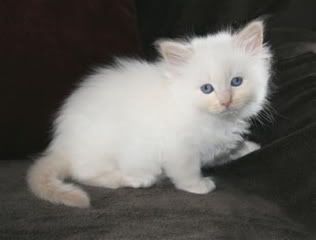 And this is Bastian: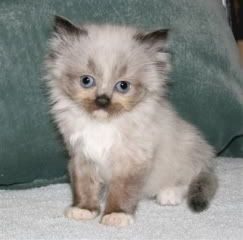 I can't wait to bring them home!!!
Honestly though, I'm feeling a little guilty. This is the first time I've ever purchased a cat rather than adopting a rescue. But I just couldn't resist these babies!!!