Probably the best time for an introduction here would have been *before* I started posting on other parts of the board, but better late than never, eh?
To begin with, it wasn't my intention to become my neighborhood's crazy cat lady... it just happened, heh. When I was younger and lived with my parents I'd always only had one cat at a time. Then, when I lived on my own and realized that what I really missed was living with a cat, I adopted Momo from the Humane Society: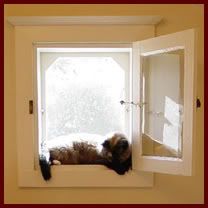 Momo was so undernourished that if you looked down on her from above you could see her ribcage and then once her ribs stopped she was literally only a couple of inches wide until you got to her back legs. Also, she was pregnant. Obviously she was in no state to have kittens, so the kittens were aborted and Momo was brought up to full healthiness.
After a while I decided to volunteer for the Humane Society, and I have come to find out that this is a bad idea if you have weak kitty willpower. First I tried fostering kittens, which means that you take in kittens that are too young for adoption and get them ready. Well, out of the first three that I got, one died from a heart defect (I made my best attempt with over a thousand dollars of vet care and around-the-clock attention, but he was just too tiny) and at that point Momo adamantly refused to be parted from the other two (okay, maybe I was a bit attached as well). This is where Suki and Shin-Shin came from: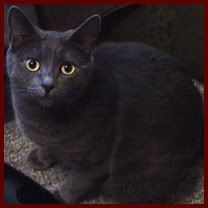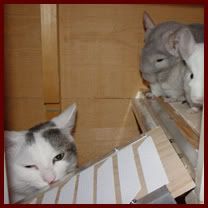 (Shin-Shin loves my chinchillas and frequently sneaks into their cage during cleanings to hide... once she got in without my realizing it and pretended to be a chinchilla for a whole day. This is her "Mom, go away... chinchillas are *nocturnal*!" face, hehe.)
Realizing that I couldn't foster kittens without developing a herd of cats, I switched to volunteer photography for the Humane Society, and that's where I found Ichimu: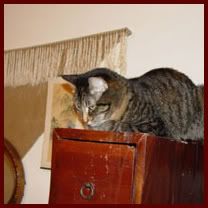 You would think that four would be plenty of cats, and so did I, so I stopped volunteering altogether. Now I just send cash. From far, far away. This did not stop my cat addiction, however, as my neighbors gifted me with a mother and son pair that didn't get along with their new dog (I know, I know). I don't just go around taking in random cats, but Scooper and Ed knew me very well and actually spent more time at my house than their own: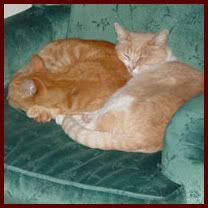 And there we were, a happy family of six cats. Until some *%$#!@* dumped a thoroughly beat-up cat outside my house about two and a half years ago. After an aggressive campaign to find him a new home it seemed that nobody could take him, so I just kept him. Apple's tale is posted here already (I was looking for advice on making him feel more comfortable) so I won't repeat it:
http://www.thecatsite.com/forums/sho...d.php?t=145217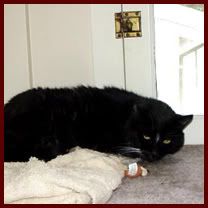 Also, for a brief period (about five months) last winter, I had eight cats. I had found Esme in a parking lot and thought that she was a kitten... she weighed only three pounds! I took her to the vet (she didn't look all right) and it turned out that she was a minimum of sixteen (their best estimate) and was starving because she'd lost all of her teeth (due to old age). I didn't even try to find her another home because I figured that at her age and with her history I wouldn't have eight cats for very long, and sadly I was right. At least a good few months in a warm, loving home is better than ending your life starving in a parking lot, right?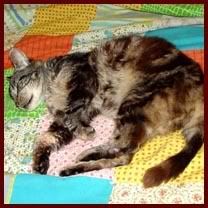 So that's it for the cats... for now. *sheepish grin*
Me? Bah, humans are boring. =P