So, I finally built me a cat 'tree.' It's not done, needs shelves added (have to pull out from corner and put lower braces on backside, so shelves can fit in lower area); shelves need covering, probably using fleece and old blankets; anchoring to wall, etc...
But they like it.
For those who're curious, I used IKEA's Ivar shelving, 89 inch tall sides and post, so it darn near hits the ceiling. I chose black, even though not all the pieces come in black, because it'll help in that I have less to stain/paint later on. Also, once I rearrange furniture, I'm going to buy their 6 foot long shelves and then do another column of the regular shelves at the other end. Those will be for me, though. I've also claimed the two bottom shelves of the current section for myself... not like they need it... they have 85% of the whole thing as it is...
So, here's pics of the condo/tree as it is now... I've added folded up throw blankets and such to help warm it up for Ms Picky (JoJo). She has her spot now...
The whole thing... well mostly.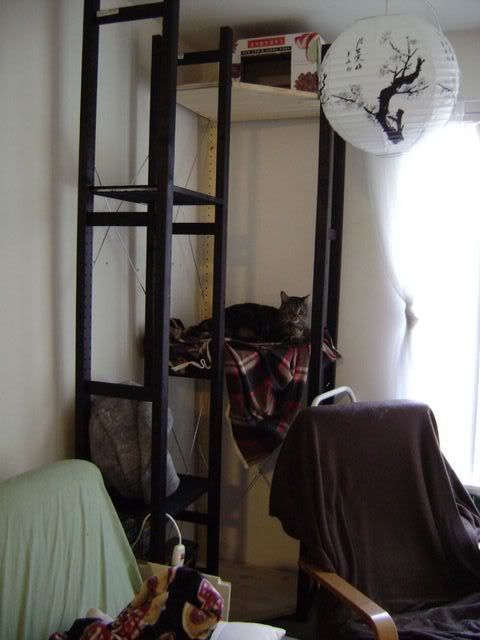 Early image of Jack on his spot...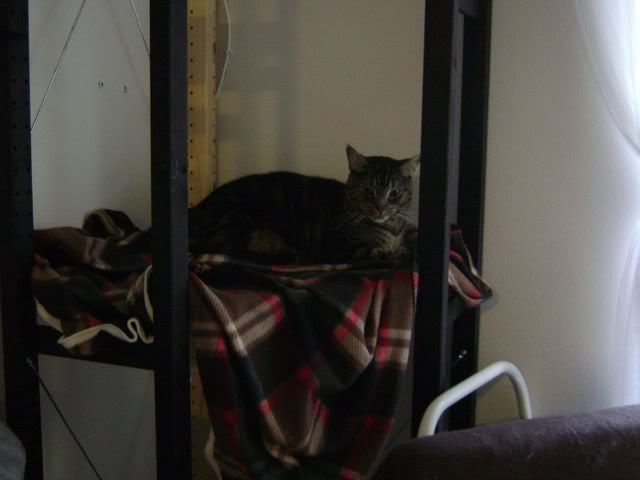 Both of them.... was wondering when she would figure it out...
Amanda