For about a week or so now, there was this 'stray' cat that has been hanging around the house. I have noticed him months ago.. and actually trapped him last summer when I was trying to trap a feral un-spayed female... but I let him loose.
Well by his teeth I figure he's approx 15 years old give or take a few years. He has few teeth.. and the teeth he does have are in horrible condition. He is all black.. neutered and front declawed.
He is severely emaciated. Like there is nothing to him at all.. and he only has one ear. I have been calling him 'Porkchop'.
Porkchop, I found out, was let outside by his owner after he got a puppy and the cat started spraying on everything. So this is technically an abandon? I will have to talk to the guy before I can do anything medically with the cat? I don't really want to talk to the guy because I know I will lip off at him. (abandoning his DECLAWED old cat?!?!? insane.)
I went and bought him some kitten food to see if that will help him gain some weight. And have been giving it to him as well as fresh water. Well now he has decided that he doesn't want to leave. I can't bring him in until I have him vet checked... and even then I can't keep him.. I have to many as it is.
I don't want to take him to the rescue I work at, because he is an old cat and old cats go downhill when they go into a rescue... and I don't want to see him die.. but I don't want him to have to deal with winter either.
Mum says that she is going to put him to sleep soon if we don't figure something out to do with him.. because she doesn't want to see him suffer either.
How much do Feline Leukemia tests go for? I am mainly worried that there is something wrong with him and that I'll give it to my cats. I can't afford a vet visit right now for a cat that doesn't belong to me.. but I'll be checking next week to see if I can get any deals because he is a stray.
Here are a few pictures. Hard to see how skinny he is because his short fur is all matted. but you can feel every bone in his body. Friendlier than all heck.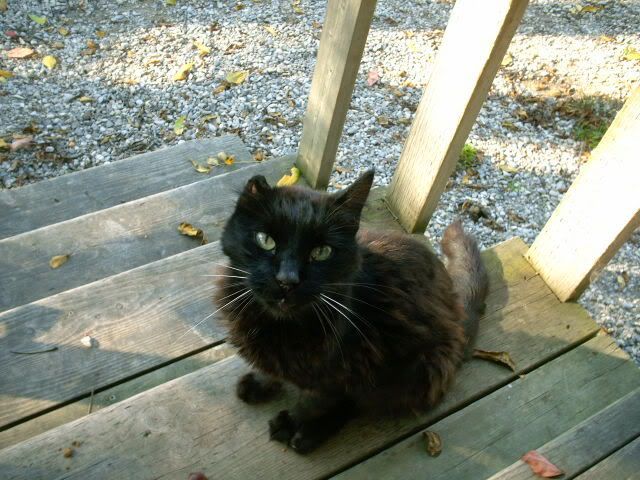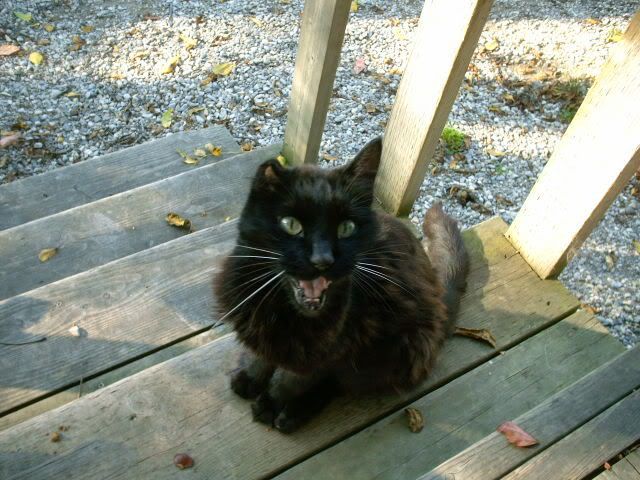 You can see two of my cats watching him from the door. They usually go nuts and try to attack strange cats.. but they must know that Porkchop is special.