WINSTON
Winston is my sisters oldest cat. He is roughly 15 and she had him from a little kitten.

He had 2 strokes when he was 7 but he recovered well. He became a bit ditzy and would look like he was in a bit of a daze but he played with PP and ate well.

Sadly he was diagnosed with kidney faliure a few weeks ago and thanks to the rubbish vet she was seeing before it was too late to give him any treatment. He needed his teeth doing too but the new vet said he was too poorly to be aneasthetized.

I last saw him in January and he spent a lot of time curled up on my lap. Sitting in the plane on the way home I did think that that may be the last time I saw him.

Winston is being put to sleep right about now so go peacefully sweetie. We all love you and will miss you very much. Keep a watch over your mummy and your friend PP and even Abba. I`m sure Kia and Max will miss you too.


Rest in peace
XXX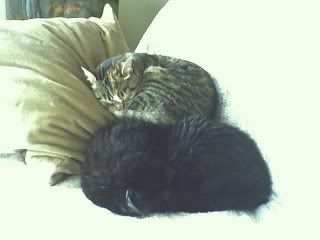 Winston being a cushion for PP