Hi all!
just signed up today... I am the ultimate crazy cat lady, preferring to spend my days and nights at home with my cats. a bit unusual at my age but it's what I do. My boyfriend makes fun of me constantly about my "jungle friends" as he calls them.
so w o further ado, some pics of my babies!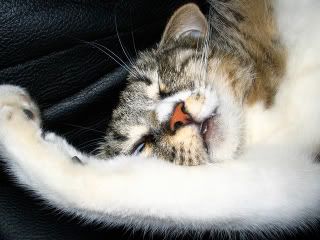 this is Beatrix, the oldest of the kids. She's 3 y o and CRABBY!
she doesn't like the kittens much but then she doesn't like much of anything except food, sleep and hunting.
this is Chloe, she's half of a duo I adopted from whiskers tails and ferals a couple weeks ago. She's about 12 wks old now and is a doll. She's really playful and likes to curl up on my chest and purrrrrrrrr
this is Berach. He's definitely a mommas boy , haha I love it too. he follows me around and comes running anytime I call. he's also about 12 weeks and he loves his little sister and will squeak if he doesn't know where she's at.
looking forward to chatting with other cat lovers!
-Saya