hi my name is keri, just joined a few days ago. all cats are neutered and spayed except for Skeeter, because she pregnant at the moment and should have her kittens any day now. i thought id post some pics of my 5 cats: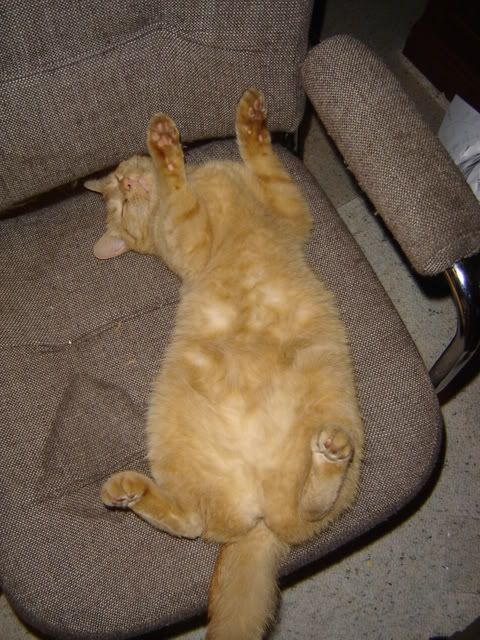 this is Mic. shes not the nicest cat in the world, but when you let her come to you shes all cuddles and kisses =] shes the mother of Garfield and Skunk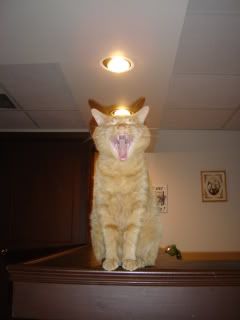 this is Garfield, my fat little boy =] hes the laziest cat we have and loves to sit there and wait for you to puch food under his nose lol. he is the sone of Mic and sister of Skunk
this is Skunk. all she likes to do is sit there and lick your nose and ear lodes until they are raw lol. shes the only female cat we have that doesnt growl when you pick her up, shes surprisingly nice for a girl =] this is Mis daughter and Garfields sister
this is Hooch. in the 2nd pic, hes posing in my new 55gal tank for my painted turtle lol. we got him at a festival about 7-8 years ago. hes not related to any othe the other cats, but i call him uncle all the time. hes a cutie =]
here is skeeter, our meanest cat. she really hates everyone, but shes getting used to us and actually lets us touch her sometomes. shes prenant and should be having her babies in a few days. she will then be spayed at the right time after. she is out only indooe cat, all the others are outdoor.
heres skeeters pregnant tummy =] shes alot bigger now becasue this was tanken about a week and a half ago
i also have a ball python, a midland painted turtle, a bunch of fish and 2 mice, whicj are not food for the python. i did have a dog, but we had to put her to sleep 2 weeks ago becasue she was 16 =[ im still used to saying i have a dog.
so those are my cats!! ill post pics when skeetr has her kittens, which should be soon!!! =]