Well, last month I bought a 15lb bag of Innova Evo and realised that the kibbles seemed to be much smaller then the last bag. I wrote the company and they said that they were trying to come up with the correct consistency and that's what caused the kibble to be so much smaller. They apologized and told me that I could take it back to the store for a refund.
(I had no intention of dragging the thing all the way back to the store just because the kibble was smaller, lol)
I didn't really think anything of it and just gave it to my kitties(they didn't care) and ferrets. I DID notice that the cats weren't eating as much as normal and that the ferrets seemed to be losing a bit of weight. However, I DID just bring new kittens into the house, so I figured it was stressing the cats a little bit so that's why they weren't eating as much. also, for the ferrets, well, it's summer and ferrets normally lose alot of weight as the weather warms up.
Anyways...fastforwarding to about an hour ago...I bought a new bag of food from the store the other day and today the cats' are about out so I got out the new bag and dumped it into the food container. I then went over to the food dish to dump out the old stuff and when I looked in there I saw a piece of black kibble! Well, I picked it out and dug through what else was left and found 8 more pieces! They are burnt! Yikes!
If there were 9 pieces of burnt kibble i the last cup of food I can only imagine how many pieces were in the entire bag! I feel like such a terrible meowmy! I mean, I gues I figured that Evo was such a great food(and expensive!) that they surely wouldn't have such a problem as burnt kibble! I was wrong...
I took a pic of the burnt stuff next to some of the non-burnt kibble. I have saved it in a baggy and have emailed the company(too late to call) and am awaiting a response. They had better tell me something more then "you can take it back to the store"!
I really love their food, but I won't stand for a company that is going to burn their kibble and then just mix it in with the good stuff!
Here's the picture: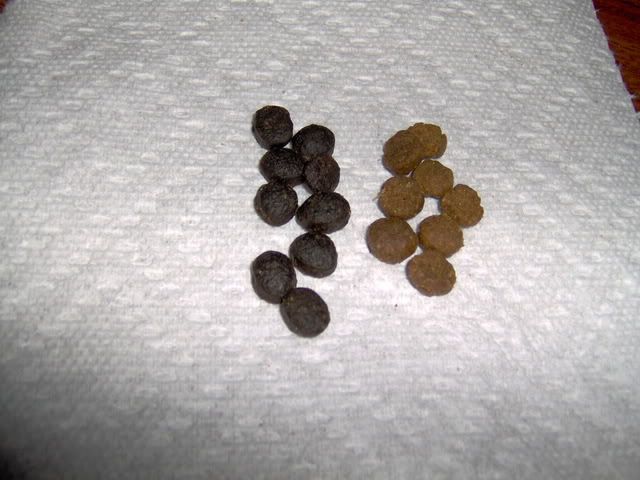 Anyone else find burnt kibble in their last bag of food?