OK getting around to doing this, I thought it would be easier for people requesting sigs to know what we are looking for in the photos and requests so that we have an easier job of making them and you get the sig you want.
First of all we need
large, clear pics of your cats, where they are the focus of the photo
and secondly, it helps if they are
not all cut off at the edges
, Scully has agreed to model for me to show people (and the size of these pics are not indicative of the ones we want, just shrunk so as not to waste space in a thread with few piccies)
A photo like this will probably not allow the siggy maker to use any background, so while we can use them (if you only have one cat) you will get one that is just cat with a name and maybe a few embellishments. If possible the cat should be full view, but we can work easily with them being cut off on one side.
The first of these pics will be easier to work with than the second one as we can place the cat anywhere on the siggy than being stuck using a left hand facing one or flipping the cat over which doesn't work so well if their markings are not identical on both sides.
The bigger the pics the better so don't feel bad about linking to a HUGE pic, we prefer them to work with and it is much easier to shrink than to stretch a picture!
So once you have chosen your photos (and try to supply more than one of each cat in case some work betters than others with the other pics), you need to host them somwhere so you can link to them. Most people use
www.photobucket.com
but there are lots of other ones.
Then post them in this thread. We need the URL or HTTP link to the photos, not the IMG tags, so in photobucket (or whatever you use) just cut and paste this line of text or right click on your uploaded photo and click properties and cut and paste from there.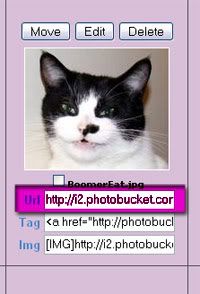 (Boomer was upset that Scully was getting all the photo action today and wanted to help)
Then post them in here with the names and any special requests etc so your post will look like this:
Name of CatLINK ONELINK TWOLINK THREESpecial Requests (such as you need the sig to be 134 px high so you can keep the line of text you have, or you would like a rainbow bridge theme for one of the kitties etc)