Hey!
Just tought I'd share this funny video. I took it about a month ago, but I hadn't put it on photobucket until now. It's one of my two cats, the gooffy (sp?) one. She's the one having an eye infection at the moment (Zoe).
Laugh it up!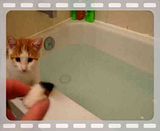 In case the embeding doesn't work, here is the direct link:
http://s193.photobucket.com/albums/z...nt=thebath.flv
Later, I'll also post pictures of Zoe now (her eye wouldn't heal up, so she nows wear that thing around her neck (I don't know what it's called in english) so that she can't scratch it) so that you see how pittyful she looks like.
Marilou