Really has it been that long? Here he is my beautiful Ryu, after 5 weeks and 3 day, where does the time go???
First we must start with some before pics.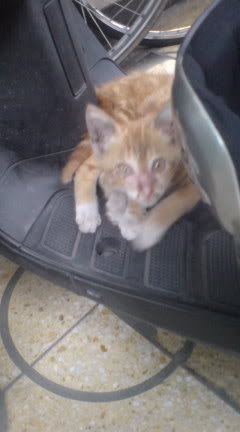 This is the first pic of where I found him, he is enjoying the comfort of someones scooter and isn't happy I'm taking a photo. As you can see he wasn't dressed for the occasion.
Poor guy, look how miserable he looks and who could possibly say no to taking him home???
This is after his first shower, 1 day after I caught him. Notice he has no fur behind his ears.
Here he is being groomed. Handsome wee dragon don't you think?
[IMG]
http://i33.photobucket.com/albums/d51/kiwi_samurai/Newkitten012.jpg[IMG
]
See how skinny the poor wee beggar is.
Now for the after pics. Admittedly he had just finished eating, but really there isn't much difference once he poops it out.
As you can see he has packed on a bit of weight. It has been up and down with his sickness but he is now 2.2Kg
, so I am happy with that.
ETA: His fur is back