Hi. I posted already in the CRF forum, sadly. I did want to tell you more about myself in the proper forum, though.
I'm Dez, from VA. I'm married to my husband of (almost) 5 years and we have two daughters. I work from home. I have a kitty named Crackers and some plants I haven't killed yet.
I have an issue where I become immediately and sickeningly attached to any cat I come across (I treat my neighbor's cats like they are my own). This has resulted in my spending large amounts of time at the local cat shelter and coming home covered in fur.
And a bit about Crackers...he's a shelter kitty that I adopted in May of 2006. He somewhere between 4 and 5 years old. His history is a little sketchy (the people who brought him to the shelter were obviously lying about his past) but every day he seems to get a little more loving. He even rolls onto his back and meows, demanding tummy rubs from me. Anyway, here's a picture.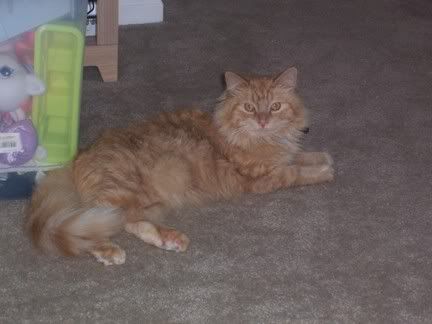 And I want to thank you guys for this forum. It's awesome here and I look forward to contributing more.