When I was about 5 I remember going to lunch with my grandma and wanting to go the the pet store. She could not say no, and when we got in there, I saw a little kitten curled up in a ball. People would come over and look at her. She would lift her head and acknowledge their presence, and then drift back in to sleep less than amused. I decided to go see her, and when I walked up to the glass she looked up, and came trotting over to the glass, meowing and rubbing up against it. I asked grandma if we could get her, and of course she said we would have to ask the parents. So we went home, and I asked and that night my parents went in to see her. Come to find out the kitten had conjuctivitis and they were planning on putting her to sleep. They said we could not have her. It was at this point my dad almost drug the poor guy over the counter and informed the clerk that we would be taking her home. Thus Cleo came into our lives. She lived an excellent life with us for the next 11 years. Then one day when I was 16 she started to decline in health. She could not walk straight and would fall over all the time trying to clean herself and walk around. We took her to the vet and they said soon she would suffer from kidney failure, and become incontinent. We decided we did not want her to suffer and we put her to sleep. We have her still. She was cremated and lives in my moms curio cabinet in a deep blue and gold jar. The day before we put her to sleep I got this: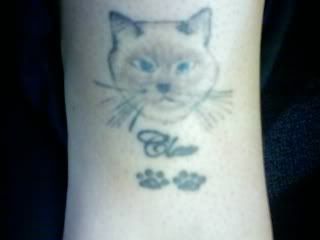 I brought a picture of her in and had them draw her face. It needs touched up now, but I will always remember her. She was my best friend growing up. I still cry till this day when I remember her going limp in my arms.
Cant wait to see her again when I meet her at the bridge!