Okay so the story of this one started with a trip to the SPCA to get a puppy with a friend. . . They did not have any and being that I love cats, i could not resist going in and seeing all the babies! I have always wanted a odd-eyed white cat, since i was a little girl, and that day I found this one. When I got here she weighd 2 pounds. I had her for two weeks before she was hospitalized with an infection that almost took her life over night. She ahd a fever of 105.5 for over a week and was on i.vs and the like. . . The told me they were going to put her to sleep and a week later told me to come pick up my baby! Also she fractured her leg rough housing with the dogs while I was not home, so now her front right leg is a little bowed. From her fever she has sufferd some cognative imparements. She does not have a good sense of balance when walking, her tail twitches, and I dont think her depth perception is too good. But she has the most personality I have ever seen in a cat. I will post two pics on here for the moment. More to come!
Key Key with my little sister!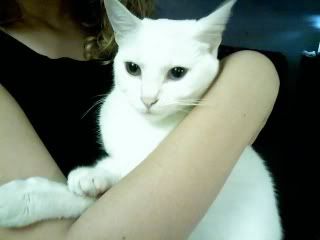 And this is how we watch the birds. . . She will just sit there like this. . .