Stoli, please this is censored!
Endless Whimsy

offline
4,352 Posts. Joined 2/2006
Location: Maine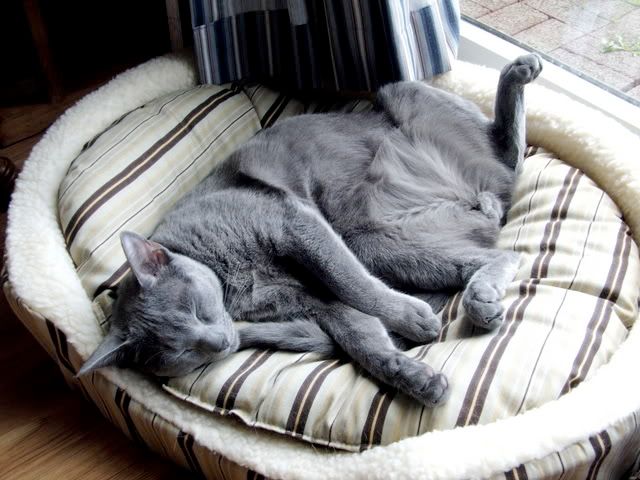 cover up them bits.
The zoo keeper

offline
7,715 Posts. Joined 12/2004
Location: Over the river and through the woods...
Oh my....
The positions they sleep in! If there was a kitty playgirl or playboy I bet a lot of us could make a fortune!
offline
1,309 Posts. Joined 6/2007
Location: Chicagoland
LOL! silly boy
offline
21,085 Posts. Joined 7/2006
Location: Winnipeg, Manitoba, Canada
haha! Whata sweetie!
Give that tummy a few rubs! I don't know what it is about a kitty's tummy, but when I see one exposed I have to rub it
offline
7,579 Posts. Joined 6/2007
Location: In the middle of BC
hahaha I think he's just getting some fresh air
Love them fluffy britches!

offline
18,768 Posts. Joined 12/2004
Location: SW Indiana
Nothing like a refreshing breeze across the nether regions...
Moderator/Admin

offline
54,349 Posts. Joined 12/2003
Location: ENGLAND... LAND OF HOPE AND GLORY!
Stoli your as bad as my Jack for showing your bits off!
Awwwww but doesn't he look sweet!
offline
hahahaha, Stoli is sunbathing. The warmth must felt good. hahahha
offline
19,858 Posts. Joined 8/2005
Location: SW Minnesota
Oh I've taken both male and female pics like that - and call them the "Playgirl Kitty" or "Playboy Kitty"
Spitty Kitty Specialist

offline
10,970 Posts. Joined 3/2005
Location: Cincinnati
Awww, Stoli looks so cute and relaxed.
Reminds me of my Claire and some of her "poses."
Hangin' with the girls

offline
15,813 Posts. Joined 6/2006
Location: Australia
Oh my I had to cover Lily's eyes!!! She's stil too young and innocent to see her boyfriend's bits!
Endless Whimsy

offline
4,352 Posts. Joined 2/2006
Location: Maine
thanks for your cute comments everyone. that made me smile - I had to laugh at watchcaddy's remark though - I hadn't thought of the warmth.....

funny
Until we meet again~daddy

offline
10,169 Posts. Joined 3/2006
Location: Podunk, Kansas
Stoli!!! Quit trying to make the other boys jealous!!
BTW-he is sooo beautiful~~
xocats

offline
20,509 Posts. Joined 3/2005
Ahhh Stoli...
your bits are adorable.
XXX