Hi there it's lovely to be here and I'm just so thankful I found what looks like a fabulous forum!!
I'm Janey and mum to two kitties. I have Poppy who is just over a year old and I have recently aquired (about 4 weeks ago) another kitty that I've named Tilly, hence my user name Tillypop
Tilly was offered to me by a rather dippy lady down the road who clearly wasn't taking care of her properly as she was skin and bones when I first had her. When I asked her how old Tilly was as she's clearly a kitten herself, she had no idea!!!
She also let Tilly out unspayed and in the last few weeks it has become very apparent that the poor little mite is pregnant. Her belly is huge and this last week I've seen her babies moving about like crazy.
We are looking after Tilly as best we can and she gets lots of regular cuddles and love.
I'm really scared for Tilly as she is only young herself and I'm on pins waiting for her to give birth, but I'll leave that for another post.
Here's Poppy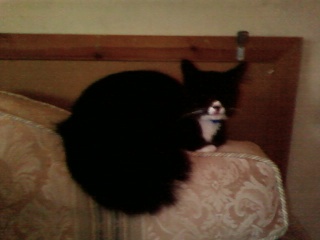 And here's a rather pregnant looking Tilly
Great to meet you and I look forward to chatting with you
Janey xx