Okay, guys, since there were so many great ideas suggested for a new name for my neighbor's abandoned cat "Come Here," and at the suggestion of a member to narrow it down to the top picks, I'm starting a new poll.
Here's a picture of the lovely kitty in question: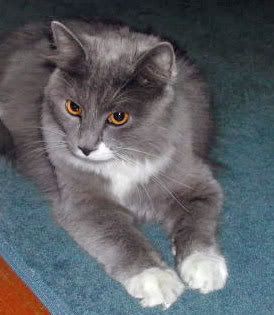 To really narrow down the list, I'm including the names from the original poll that had four or more votes. (I loved all the names!) I'm also adding the names Maggie (this was suggested but I mistakenly left it out of the original poll) and Hope because it seems appropriate (this doesn't mean you have to vote for it!)
Last thing, I've included the name Gracie, which got 4 votes. I LOVE that name but, since I already have a Gracie myself, it might get a little confusing if Come Here is with us for any length of time. But, if you guys want her to be Gracie, then majority rules.
Please vote when you have a chance! Thanks, guys.
If you're interested, here's a link to how Come Here came to be in my care:
http://www.thecatsite.com/forums/sho...d.php?t=136481