So it was another hot sunny day today and I said to my wife, it would be nice if it rained. She replied that it will rain on Thursday, I was like thats a long way away. Well about half an hour later while we were in the city, we went into a shop for all of 3 minutes and we thought we heard thunder. When we stepped outside, in the space of those 3 minutes the sky had gotten very dark, it started to get cold even and was spitting. My wife and I decided to go into a building and then the rain fair poured down, tonnes of thunder, lightening and a few power cuts. We were in the building for half an hour and heres a picture of 1 of the main roads, after half an hour of rain.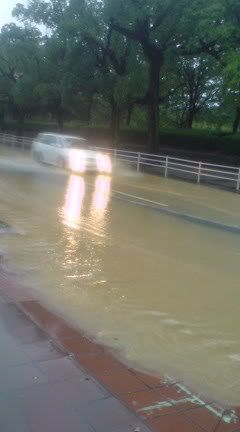 Not bad eh, definitely bizzare the way it suddenly came on. But I was so happy.
Its still thundery and lighteningy at the moment.