Today after work someone I work with from upstairs rang me because he thought I was still upstairs working. There was a baby seagull on the doorstep and as he`d gone in it had stepped inside. So he shoo`s it out and I say goodbye.
5 minutes later I hear all this sqwauking outside my window and voices so I went out. There was an old guy on my drive asking me if I`d seen a baby seagull that had just fallen down the side of my window. He said it was being mobbed by the full grown birds and then he went.
So I climbed down and there he was so I went and got my bath towel and caught it. You could see where the others had been pecking at it`s head and something was wrong with it`s right eye. This picture is bad quality but I didn`t want to frighten it anymore. ( If you look at the second hole in from the right on the top row of the door thats his eye and the next hole you can see his beak )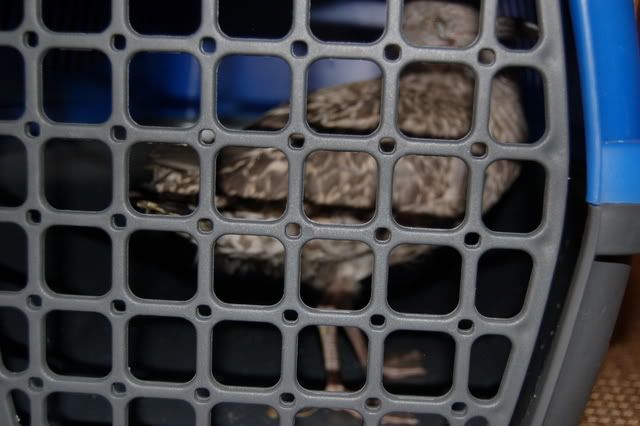 Luckily we have an RSPCA wildlife center not too far away so someone took us out there. I was really hopefull but when the guy took him out of the carrier he looked at his eye and said the eye was missing
He said it was an old injury or he may have been born without it and that he had more than likely just fledged from a nest on the roof.
I was hoping this would be better than the last one I took in but I don`t think I`ve ever seen one with one eye in the wild, so to speak.
Poor little guy