Today, the 25th, is St. John's first birthday! We have no idea what kind of household he was born into -- all we know is that, six weeks later, someone threw him out of a car on the highway. He ended up at the shelter where we volunteer, they asked us to foster him... and we just couldn't let him go.
St. John is my mom's special boy, the one who stays close to her and shares little private jokes with her and pats her face ever so gently every night before settling down to sleep. He can lift her spirits in a heartbeat, no matter what's got her down.
St. John loves everyone, feline and human alike. He's very observant and analytical, always thinking. He has a tiny little
mew
, still as sweet as when he was a baby. And as you can see... he's just beautiful.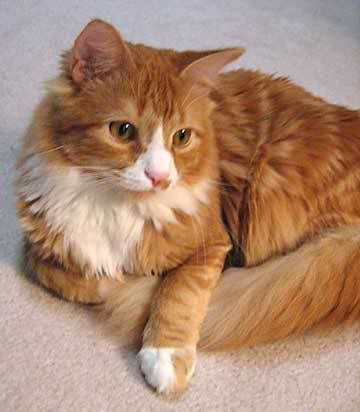 So here's our to-do list for tomorrow:
1. Bake the catnip-laced brownies
2. Hang the balloons and crepe paper
3. Make some little kitty party hats
4. Set up the "Pin the tail on the Dachsund" game
5. Put the soundtrack from "Cats" on the stereo
6. Fill the punchbowl with warm KMR
7. Lay out the sushi buffet
And when it's time to sing Happy Birthday, we'll pull a string and 500 little foam balls will fall from the skylight...