The Real Garfield
Subliminal Cat

offline
10,343 Posts. Joined 12/2003
Location: NJ
Check out this video
http://www.youtube.com/watch?v=yvslTGXnpko
Drowning In Cliches

offline
2,165 Posts. Joined 3/2007
Location: Right Behind You
LOL that is too funny, a replica of my kitty Tiger aka Fat Man... aka Garfield!!! He is so lazy we gotta hold him up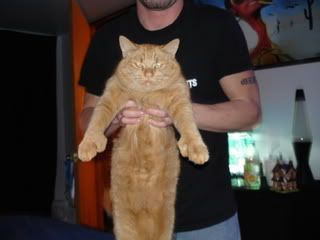 Hehe loved it!!!
Witty comment goes here...

offline
6,756 Posts. Joined 5/2006
Location: Philly
Aww my Lucky does the same thing but he would have meowed at me.
offline
hahaha, way tooooo funny. Love it.
xocats

offline
20,509 Posts. Joined 3/2005
I think that he was really watching TV.
What a cutie pie.
Moderator/Admin

offline
54,349 Posts. Joined 12/2003
Location: ENGLAND... LAND OF HOPE AND GLORY!
Now we should all take a leaf out of that kitty's book and chill out
Babygirl you will always be missed.

offline
17,439 Posts. Joined 6/2006
Location: Birmingham
OMG that was way too funny
It really looked like he was watching TV
Spitty Kitty Specialist

offline
10,970 Posts. Joined 3/2005
Location: Cincinnati
Too cute!!!
offline
11,661 Posts. Joined 12/2004
Location: Dade County, FL
LOL, he is so cute!
offline
705 Posts. Joined 1/2007
Location: Canada
LOL, that was great!
It's so cute the way he was sitting.
offline
66 Posts. Joined 3/2007
Location: Dartmouth, NS