Hello!
My name is Diane and I have a 1 year old black cat, named Boo.
I found this site while surfing the net looking for a new vet (we just moved from N.Va to NC). I browsed through the boards and being impressed with what I saw, decided to register.
Boo is my baby and yes, I can be one of those super neurotic 1st time mommies!
So, please, bear with me if I drive you nuts with all my questions.
I am, also, interested in meeting other black cat enthusiasts!
Especially if you know where I can find black cat products (such as novelties, gifts, cards, gift wrap, etc), I've found very few sites and most of them were overseas.
BTW, if you are in the N.Va area and need a recommendation for a vet, PM me...our former vet was the best! My Boo is

not

a people cat and she loved her vet.
Anyway, here's my baby:
"Whatchoo lookin' at?"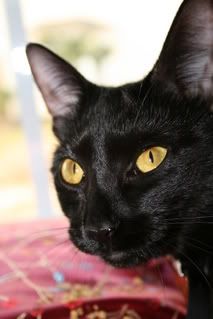 "Bow, lowly servant!"
"Kanga-boo!"