Helloooo!!!
My Hubby and I both work at the same place, he works in the shop, I work in the front office. We have a HUGE property full of all kinds of industrial equipment. We ship and recive from all over the world these HUGE turbine packages for power generation, gas compression plus other uses.
PLUS, we be in the country...
This equates to, "Plenty of places for feral kitties"
One of our maintenance workers caught a kitten in a live trap and came up to ask me if we wanted it. LOL I said. "Oh dear, you are gonna have to ask Jordan" After we got Little Dude, 3 months ago, he said no more cats!
Well, that didn't last long. I called Jordan and next thing I know, we had a very scared feral 10 week old, skinny, dehydrated kitten.
It is AMAZING how he has warmed up to us and the other cats. I can't believe it. Little Dude who is about 5 months old now, has taken him under his wing, and Fuji (the feral) follows him everywhere.
We did have him out and about in the house, but he hid SO much and getting him was such a scary thing, I decided to put him in a LARGE dog carrier with blankets (from other kitties) Kitty bed, food, water and small litter pan, for a couple reasons.
A) I want to make sure he is eating and drinking. I can't just leave food out for him, the other cats will eat it. Although, he has gotten very FAT over the last couple days!! YAY! I also want him to learn to use the litter.
B) I want him to get used to seeing the activities of what goes on around here, even though he was coming out on his own to play with Dude while we were here.
and
C) I don't want a HUGE scary chase happening to him every time we want to pick him up for socialization. He does GREAT when we hold him. He settles down and enjoys being pet. But GETTING him, that was the hard part.
Is this a good idea? Or should I just let him out again??
Here are the only pics I have. I will get more when I can get him to relax a little more.
Enjoy!!!
The girl in the pic is a friend of our that is living with us while her divorce is finalized.
She has a cat and a dog here with us. SO, 5 cats and a dog now! My parents are NEVER going to visit!!!
Here's Fuji!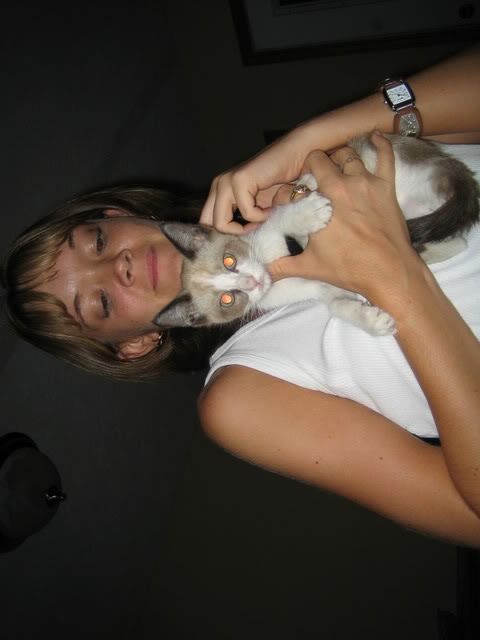 I love this one. He's like...YOU WITCH!!! How could you just snatch me up like that!!! OOH the things you have done to me today!!!