Tiny is a male DSH tabby cat, a stray brought to my house by some neighborhood kids. Unfortunately, my landlord will kick me out if I get a cat, so either he needs a home, or he needs to find his way back to his own home. He's the on mentioned in this thread:
Tiny Needs Your Help!
Also, he's cute. Very cute. And he's come out of his shell--he's still nervous, but he actively seeks out my attention, follows me around, purrs and headbutts me... Either someone has lost a wonderful cat, or someone will have to adopt a wonderful cat, because I simply cannot let such a beautiful, charming little boy go to the pound.
Getting a tan in the light from the window... notice the cute curled paws!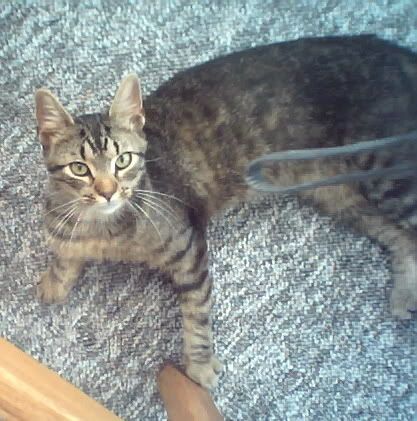 Gotta get that camera strap!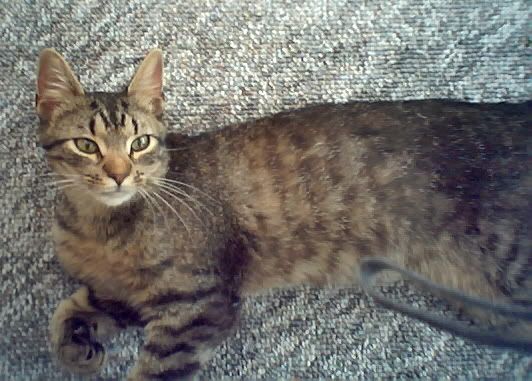 Come on, stop taking pictures of me and scratch my ears some more!
Streeeeetch....
Well, if I can't sit on her lap, then I'll snuggle her feet!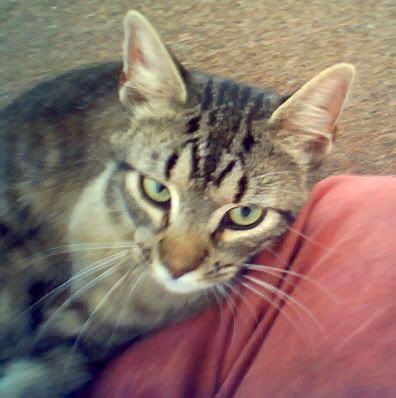 Ah, this is more like it... why aren't you scritching me!?!