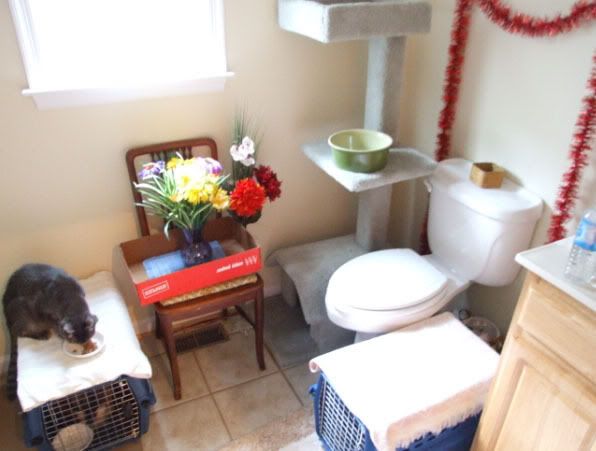 I can barely fit on the toilet. I have to push the cat tree over to open the lid, maneuver myself down without banging my calves on the crate (ouch!), and lean forward so as not accumulate bruises on my back from the cat tree.
However, the kitties absolutely LOVE it and it makes feeding time and cleanup immensely easier on me. (the crates, not necessarily the cat tree) Now Emma is starting top use the tree again, and there are many levels for them to enjoy.. so I think I'll suck it up for the time being. Also, having all their stuff in there clears up a surprising amount of space in my room.. which I like.
(You can also see Emma and Tom at dinnertime.. Chili is in the other crate, I don't think she's visible.)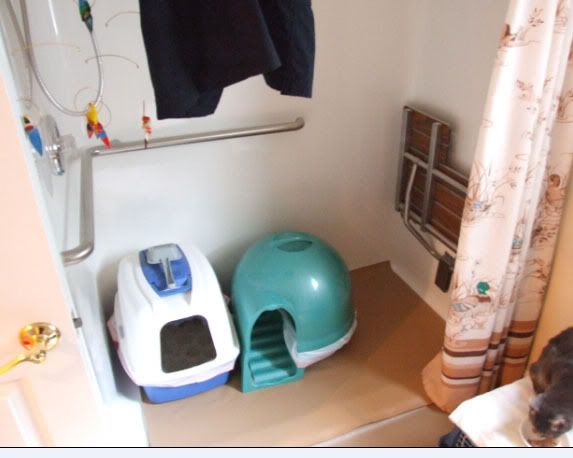 What? Litterboxes in the shower? Well, it's actually our handicap shower that is never used and it perfectly fits our three litterboxes.. so woohoo! It also makes for easy cleanup.
And on a funnier note... As I was browsing the forums earlier, I heard a little "bbbt!" from my right. I looked over to find Emma stretching.
That sound was a fart. Which my nose found out a few seconds later.