I just wanted to let everyone know that Mittens seems to be completely recovered.
I can't believe it was only Monday that he came back from the vet and that it was only this past weekend that we didn't know if he would live through his ordeal. He is doing great, eating with a strong appetite and using his litter box normally and regularly. He has gone back to hanging out in all his favourite places and is dragging his stuffed animals all over the house again. I'm so glad he was able to get through this.
We're still not sure what caused his stomach lining to thicken so much
, but since it has passed, we hope it was a one time thing. For a while, when it didn't seem to be abating, I was worrying about some sort of cancer or maybe autoimmune condition. But, he seems well now. The kids are really happy he's home, especially the daughter, M., who is technically the one Mittens belongs to.
And, I remembered the camera today and snapped a few pics. He's very good looking, isn't he?
He's about 11 pounds, so you can imagine he's a good size with quite a large head.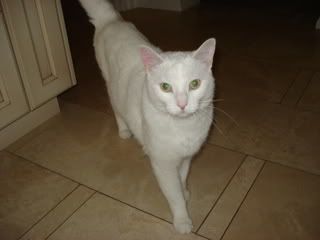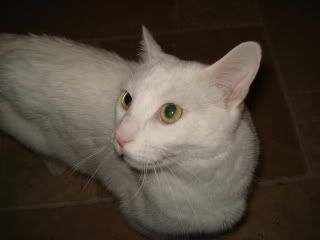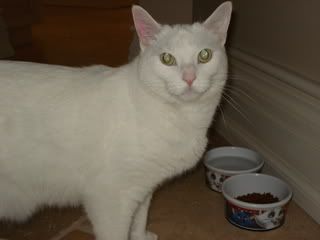 Thanks again to everyone who has been messaging me and sending me vibes to help this guy. He's sort of an oddball of a cat......a bigheaded, nervous, quick to bite, front declawed loner who is only friendly to a select few (me included
....he runs to see me when I get to work because I always freshen his water). I appreciate everyone who supported me while I was trying to help him get through this. Big thanks to all of you!