Yay, Frisco Pictures! :D
offline
705 Posts. Joined 1/2007
Location: Canada
Handsome, ain't he?
Under Portia and Diesels' Control

offline
3,411 Posts. Joined 9/2005
Location: Sydney, Australia
He sure is
They are great pictures!
offline
21,085 Posts. Joined 7/2006
Location: Winnipeg, Manitoba, Canada
He is very handsome!!!!
And he's such a ham! It looks like he was actually posing for you.
I'm watching you ! !

offline
7,602 Posts. Joined 5/2006
Location: Brits Abroad - In Spain
aww wow- he's a stunner for sure - but can he work that camera or what
give him some chin scritches from us
Mum to 3 Kitties

offline
1,260 Posts. Joined 6/2007
Location: WA, U.S.A
Susie & Bailey/Emily, one happy family!

offline
21,674 Posts. Joined 5/2004
Location: Ohio
Frisco, you should be on a magazine cover! Your gorgeous!!!!!!!
offline
18,426 Posts. Joined 7/2006
Location: In a state of misery w/o my Bella
He's gorgeous
Babygirl you will always be missed.

offline
17,439 Posts. Joined 6/2006
Location: Birmingham
Oh what a GORGEOUS boy he is
He looks very much like Gorgeous Quill..........
Quill The Mailcat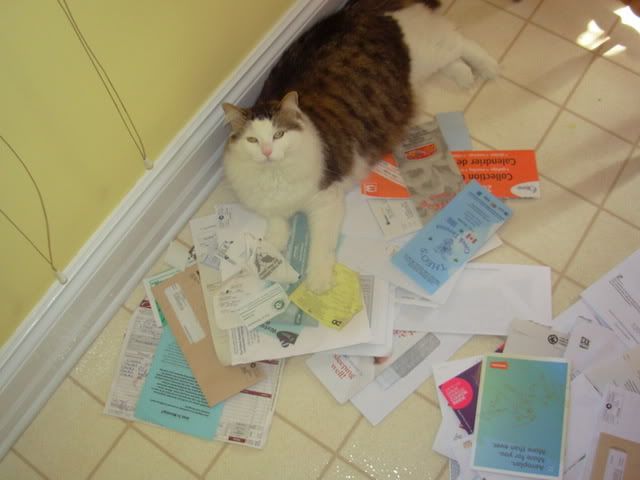 offline
281 Posts. Joined 5/2007
Location: Vancouver Island, Canada
What a gorgeous boy and great pictures. He looks like he's actually enjoying posing!
forever in my heart

offline
11,802 Posts. Joined 12/2006
Location: hiding in the bathtub
Wonderful pictures! I wish Riley would hold still and pose for me like that, without closing his eyes!
Definitely a handsome boy
offline
215 Posts. Joined 3/2007
Location: Milwaukee
what a supermodel poseing for the camera and everything, And a handsome fluff ball to boot.
offline
547 Posts. Joined 5/2007
Location: Pa
Frisco is gorgeous
offline
705 Posts. Joined 1/2007
Location: Canada
Love the mail cat picture!
Thanks for all the wonderful comments as always everyone!