Bwahaha. THIS is what happens when people request pictures from me, they get them! *evil laugh* I actually did a photoshoot with the kits last night, but all of the pictures turned out blurry because of the lighting, and all the camera batteries are shot today.
So, here they are.. Tom, Chili, and Emma, with commentary by me. Well, Chil's helping me out here by adding a sarcastic comment or two, but I find it hard to type in meows..
No one ever believes me when I say they're pigs in a cat's body, but I swear it's true, and I have PROOF!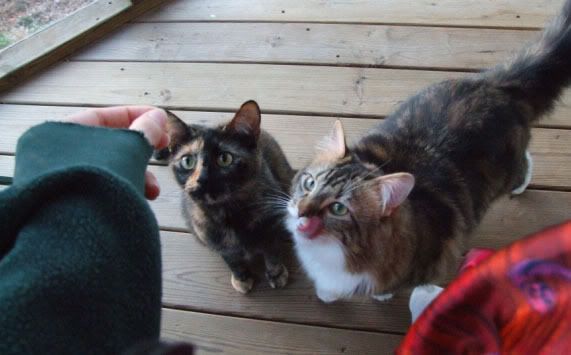 Well, not Tom. He's just an angel.
(This picture is from yesterday)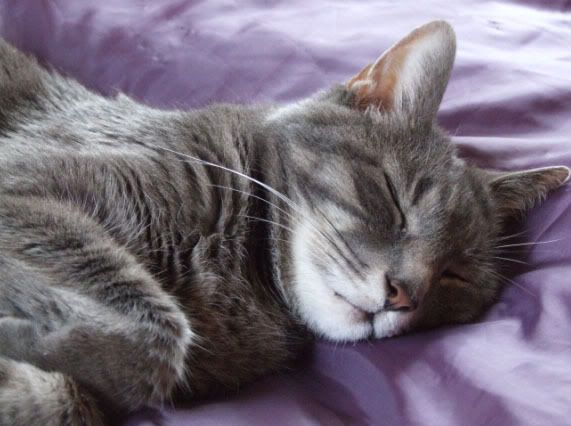 We adopted him from the Humane Society two years ago, when he was eight or so years old. His owners dumped him because "the wife was allergic." Sure. Him and his sister had been bounced around for months because no one wanted a pair of eight year old cats that had to be adopted together.. but I sure did. No one mentioned his sister (Jill) was semi-feral (VERY afraid of humans once the security of the cage door was gone), and she and Tom were getting into loud, ugly fights that drew blood and she was peeing and pooping everywhere, even when we enclosed her in a small room and put her boxes there, so she had to go back.
My mom's last house was ruined by cat pee, and she can't stand it.. The great news for her is that she was adopted as a barn cat shortly after, and her new owner loves her . I rambled on a bit, here are more pics..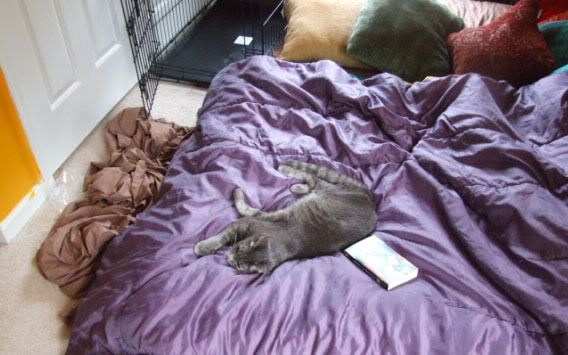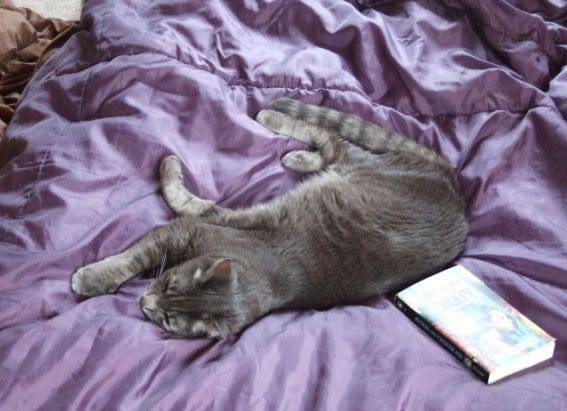 We think he was abused in his last home, because it's taken him a long time to realize when I raise a hand over my head I'm just stretching--NOT going to hit him--and when I run around the house I'm not chasing him, I'm just having fun. And when I talk in a stern voice to him.. oh the look on his face... It makes me feel like I've hit him or something.
Having the kittens around has helped him a lot. While he hasn't yet learned that the chasing game (I chase kittens, they chase me, we pounce on eachother) he has learned that when we sound like a herd of elephants no one is out to get him. So I'm glad they came to us.. so much stuff that's "normal" in my household used to be terrifying to him.
Look at that handsome face...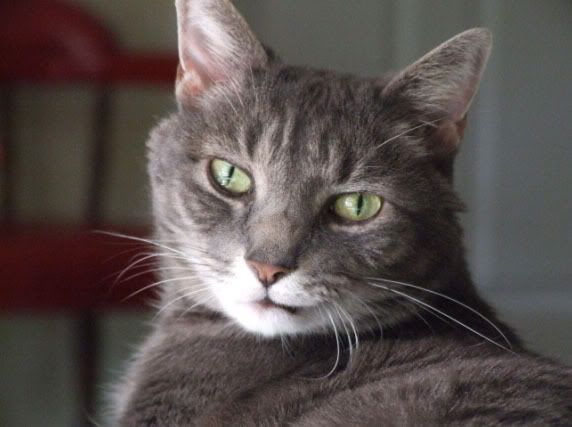 Yawwwwwwnnn... Chili didn't want me to show you this picture of her.. but.. MUHAAHAHA! Nothing like embarrassing your cat online.