Tortiebaby's thread on Torties made me think about Calicos and so I was wondering how many of you had calicos and what some of their behaviors are.
Lexi is a very sweet girl. She would never bite and just does not talk! She weighs about 7 pounds. She is very loving, but is not a lap cat. She will sleep with me when she feels like it. She does a lot or "rrrrr" sounds also.
She loves people food, but she was outside until she found us, so that could be a reason why!
I will tell you one thing though....when her food is empty she lets you know and it's loud!!!
That is the only time she ever talks and it's only one or two meows.
Is that normal for a calico? Or do they usually talk up a storm? Do they have attitudes like Torties? What are some normal behaviors for a calico? So share your Calicos!
Here are some pictures of her...this is one of the first pictures I took of her.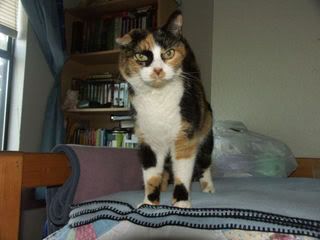 Here she is on my desk...she owns it now!
She actually fell asleep on the ledge.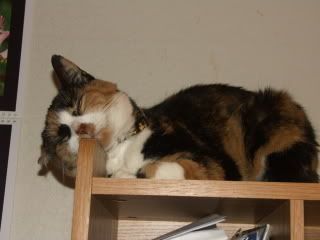 Here she is in her bed which sits on top of my bed...