Ok this is going to sound like pure insanity. Infact I'm 100% it IS insanity.
I was at a very lonely point in my life when I found my old cat brooks. We were close as close could be for a short while until I lost him in the Feb of this year (
http://www.thecatsite.com/forums/sho...ghlight=brooks
)
This is red (still alive) and brooks (sadly gone)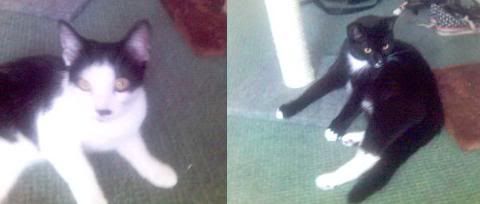 Obviously I'm still heartbroken about brooks and I've moved across the country to be with my boyfriend (have been here 2 months) I read an advertisement in the paper 5 days ago about a girl cat needing a home. So I decided that we could give a home to the 'girl' kitty
This is the cat with my boyfriend.
Looks exactly liked my brooks.
It's without a doubt a boy (I've had a look) He has not left my side since the moment I got him.
Am I being a delusional freak? Probably so but lol It's a bit bloody freaky.. you must agree?