I posted my story on another board and someone over there graciously referred me here.
Back in October, a friend of mine found a kitten in the woods near her home in Bithlo, FL. No sign of mom (or another adult cat for that matter) so she called and asked if we could take him. Being the softie that I am I said yes and we went and picked him up.
He was pretty sick when we first got him but he has pulled through great and this is him today. (He almost always takes his daytime naps just like this!)
Pudders
Well, a little over a week later, my friend called again. She had found another kitten and asked if I could take this one too. It was pretty clear they were from the same litter. Well, being buried under vet bills for Pudders, I really couldn't. I gave her a number to a no-kill rescue that I knew and assumed she would go that route. Well, no. She has 5 dogs and her husband is extremely allergic to cats. So she apparently just put a cat bed and food on her porch and made her an outside cat. Except no vaccination. And no spay. Needless to say, this weekend when I went for a visit, I see that now there are 5 kittens.
The mommy is skin and bones and very weak. Two of the kittens have upper respiratory infections so bad they can barely breathe. They all have conjunctivitis and all are under weight. It was apparent that my friend was not going to be doing anything different with them so, I stepped in. I now have 6 cats in my home!
This is the mommy, I am calling her Gracie-face and I am definitely keeping her. (Should have from the first - none of this would have happened if I had. I could and have kicked myself!)
Gracie. She does not like the flash and has excellent timing for closing her eyes!
She is so skinny. If you look at the picture of her sitting there, it looks like she is kind of heavy in her leg/backside area, but it is actually just her skin/fur kinda of hanging. The vet says that now that she will be getting regular food and water, that will go away quickly. She appears to be exhausted as well. She really just eats and sleeps right now.
And here are the babies. They are under vet care now, getting antibiotics and de-wormer etc... but they will need homes in about 6 weeks. They are still mostly nursing, but are very interested in mom's food too. The vet said they could have her food, but to put warm water in it and make it mushy. I am feeding her Nutro Kitten food, but I am wondering if I should supplement with anything else?
Charlie and the angels (from left: Charlie, Sabrina, Jill and Kelly..yes one boy and three girls. I am finally not outnumbered by males in my home!)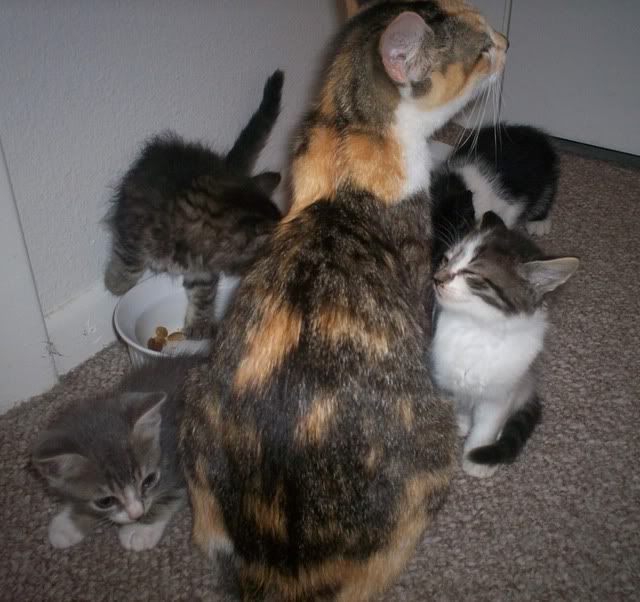 As you can see, Gracie is not much bigger than her babies.
And the biggest one is only .9 lbs!
I was terrified I was going to lose a friend over this. I and still might. She really could not see how bad off these animals were. I know there are a lot of people that believe that people are more important than an animal. But there was no way I could just let them die. Even if it meant losing a friendship. Ya know?
Anyway, I will be looking for homes for these babies. I would like to have them spayed/neutered
before
they leave me, but I do not know if I would be able to afford it. I have not heard back yet from the low-cost vet clinic near me. So if anyone knows of an alternate source, please let me know.
I have also never had the care of a nursing mother cat and her babies before, so any suggestions are welcome!