Here are some thumbnails of a couple of my favorite pieces, first my winged dog.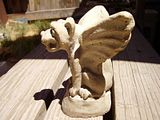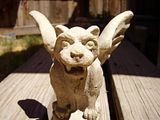 And this is the only bisque porcelin carousel that isn't in storage.
The pose is called Star Gazer and the style is Country Fair (flowers and ribbons. Another popular style is called Coney Island, recognizable by it's glitz and jeweled adornments).
This is the 'romance side' (the side that is to the outside always has more detail to it).
And this is the inside, the less detailed side.