About 3 weeks ago I told you the sad news that our little tail-less tabby, Tabitha, had to be pts because of a tumor on her liver.
Well a while after her passing we went and had a look around for a new cat. We saw a small 12 month old tortoiseshell female, and a tabby and white 1 year old female. We eventually decided to have the tortie!
Anyway, we fetched her yesterday, and apart from attacking the bird (who's now in the safe home of my nan) she settled in fairly well. Her name is Mitzi, and here she is!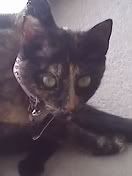 By the way, can I ask one of you lovely peeps on TCS to make me a new siggy of Tab and Mitzi? I'll post it on the siggy shop requests. Thankyou!
Hope you all like her!
And has anyone got any tips on how to stop your cat scratching the wallpaper?