*CONTAINING GRAPHIC IMAGES AT THE BOTTOM OF THE PAGE*
A few days ago at the rescue, we got a call from a lady who had found a cat with an ear problem. She said he had been hanging around her house for a couple weeks, but she never had gotten close enough to him to see the ear. We DO NOT turn down animals that are sick or injured, no matter how many animals we have.
She brought the cat in, and having been through this before, we could tell that this cat had an extremely large tumor in his ear. We took him to the vet to see if there was anything we could do for the poor orange long haired guy whom we named Pinky.
The vet looked him over and gave us the news... the tumor was so big and had grown to massive proportions, that there was no way that this tumor could be taking out without removing half of Pinky's head in the process.
He did say that Pinky had a few weeks left before his quality of life was not so good.
But last night the tumor opened or something and it started bleeding. And wouldn't stop.
Back to vet we go. He had lost so much blood throughout the night that he was severely anemic.. and that there was nothing left to do for him. The vet highly recommended euthanisia.
So pinky was humanely euthanized this morning. He isn't in pain any longer.
We have come to the conclusion that whoever owned him (he WAS owned. He is VERY friendly, and neutered.) found out something was wrong with him, and dumped him off at this ladies house a few weeks ago. The surgery would have been around $1500-$2000 to fix, and not a lot of people are willing to pay for that. So instead of putting him to sleep, they let him go, and be in pain for the rest of his life.
I just get so mad that people don't take care of their animals.
This little guy has been in pain for god only knows how long, and someone could have prevented it.
Rest in peace little guy, you were an awesome little cuddley boy. Even though you were only with us a few days, you will NEVER be forgotten.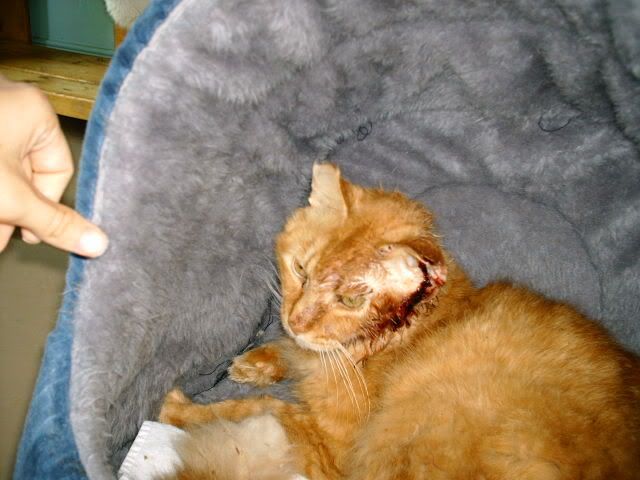 Link to close up.
http://img.photobucket.com/albums/v4...cture004-1.jpg