So thats what litter trays are for
offline
sleeping in !!
Robbie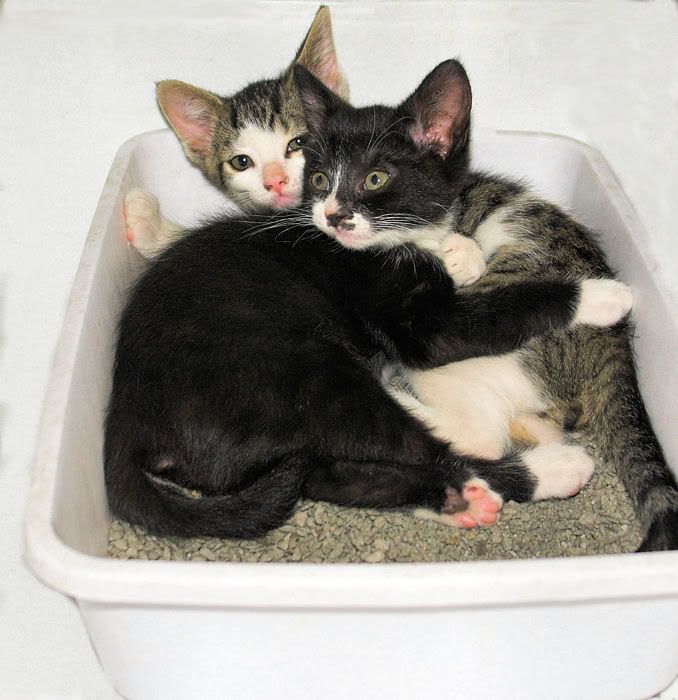 Kitteh Kleen-up Crew

offline
2,314 Posts. Joined 2/2007
Location: UPNY
where is the cuteness warning?!? Silly kittens
offline
25,567 Posts. Joined 8/2005
Location: Minnesota
Oh my gosh!! Where is that cuteness warning?!
They are adorable!!
Can-ADY-an cats rule!

offline
11,246 Posts. Joined 10/2001
Location: Toronto
Looks like they were caught in an illicit act!! Too cute!
offline
210 Posts. Joined 6/2007
Location: Sarasota, Florida
Awwww. What a cute picture. They are gorgeous.
offline
18,426 Posts. Joined 7/2006
Location: In a state of misery w/o my Bella
They are adorable
Moderator/Admin

offline
54,349 Posts. Joined 12/2003
Location: ENGLAND... LAND OF HOPE AND GLORY!
Oh good grief how sweet is that!!!
forever in my heart

offline
11,802 Posts. Joined 12/2006
Location: hiding in the bathtub
Just look at those little sweeties!
offline
Thanks everyone for your comments.
Actually all three of them were sleeping in the litter tray but one of them decided that she did not want to be photographed and hopped out before the shutter was pressed.
Robbie
offline
3,268 Posts. Joined 7/2005
Location: North Texas
Aww, they are two sweet little love muffins in there.
offline
228 Posts. Joined 6/2007
Location: In the process of moving from So. CA to So. WI!!
AWWW!!!
offline
547 Posts. Joined 5/2007
Location: Pa
That is just to cute
offline
1,029 Posts. Joined 4/2007
Location: Hicksville
My foster kittens do the same thing! They even do it after they use the litterbox so they sometimes get poop on them.
offline
378 Posts. Joined 3/2007
Location: uk- Down South
aww how sweet, you need to get them a bed really the poor things