I finally got some pics. It's really hard to tell from them how big she is because she is so dark, but she was VERY skinny when she first came in (about 6-7 weeks ago) and she's been showing now for 3 weeks 2 days. If anyone has any clue.. like if she probably has awhile to go, I'd appreciate it!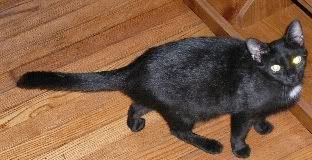 And this one is funny-- mid-Yawn:
She looks kind of lopsided like one side's a bit bigger. But could just be the angle.