It just dawned on us that today is the
FIFTH ANNIVERSARY
of the day we brought Dylan home from the shelter!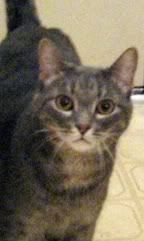 We had been catless for 13 years, since the death of our beloved Chavela back in Austin, and I'd had to work pretty hard to persuade my father to let my mom have a cat again. When he relented, I took my mom to the SPCA shelter to see if there was a kitty waiting there for us.
Boy,
was
there!
The instant we walked in the door, an eight-week-old blue tabby kitten plastered himself against the wall of his cage and yowled, "TAKE ME HOME IMMEDIATELY!" He was relentless, climbing the wires and reaching out to us between them. (We later learned that he had been neutered the day before, so he was highly motivated to get out of that place!
)
They put us in a room with him, and he was lively and energetic and friendly and fearless... just a wonderful kitten. When they gave my mom a clipboard with the adoption papers to fill out, the kitten climbed out onto it as if to approve the contract himself!
We hadn't expected to find "our" kitten right away, so we didn't have anything prepared at home. We brought the little fella home, put out water and a sample packet of food they'd given us, and then left him in my father's care while we went out to get New Kitten Stuff. My father grumbled and grumped, and we promised to hurry.
When we got back, my father was asleep in his recliner holding the sleeping kitten on his chest.
We talked about names, and somehow I managed to get approval on Dylan Ishmael, after the immortal Bob and the narrator of Moby Dick. Little Dylan liked to climb up on my shoulder, snuggle under my hair, and fall asleep purring in my ear. I would sit there stock-still for hours so as not to wake him.
Dylan grew into a big, beautiful, lanky alpha male with piercing golden eyes and a deep, expressive meow. Through all the changes since then -- including a dozen foster kittens and the addition of five more cats to the permanent household -- Dylan has remained our strong and steady leader. He's been very paternal toward the younger kitties, patiently teaching them how to do all manner of cat stuff. And he's a dedicated watchcat who protects the house from every threat... you should hear him telling off the grackles who poop on our skylight!
And yet, for all his feline gravitas and dignity, Dylan sleeps on his back, chin stretched backward, front paws raised and drooping at the wrist, back paws neatly crossed, tail twitching even in sleep. When we find him in this position, we always stop to give him a rub on his spotted tummy, which always elicits purring, which always makes us smile.
In short, Dylan is a truly great cat, the patriarch of our feline family, and one of the best things that ever happened to us.
We love you, big fella!
Thank you for being our darlin' Dylan.