I'm not sure is the pics will do justice, but pre-moult she was red phase in coloring, now she is gray phase.
The difference is that she has gone from a mahogany red to a dusty pink color.
I'm just happy it was a safe moult as that is a very dangerous thing for a tarantula to go through.
Here are some before thumbnails
Pre-moult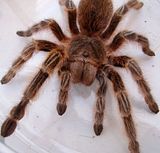 And here are the after shots
post-moult