This is my brother's dog, George. He is about 10 years old. He was run over by a car about a month ago. He was at my brother's girfriend's mother's house (that's not confusing!) and her mother accidentally let George out. Of course, he ran into the street.
His pelvis was shattered but didn't completely break apart. There is a metal pin holding two of the larger pieces together. Otherwise, the vets are pretty sure it will heal on its own. He lost his big, beautiful tail as well.
Back in January, he was bitten in his left eye by a large dog. They managed to save the eye but he is blind there.
Either my brother or his girlfriend are always with George while he heals. They work different shifts so it seems to be working so far. He gets carried all the time unless he needs to go potty. At home they hold him or have him on the sofa with them.
His prognosis is good and he is healthy otherwise. Poor George has had a heck of a year. It is truly a miracle he survived. Only weighs 13 lbs. Could you send vibes for fast healing on this little guy?
(I labeled this graphic because I wasn't sure if the details or pics would disturb others. Hope this is okay?) I took these photos at my nephew's birthday party today.
My niece, Emonni and George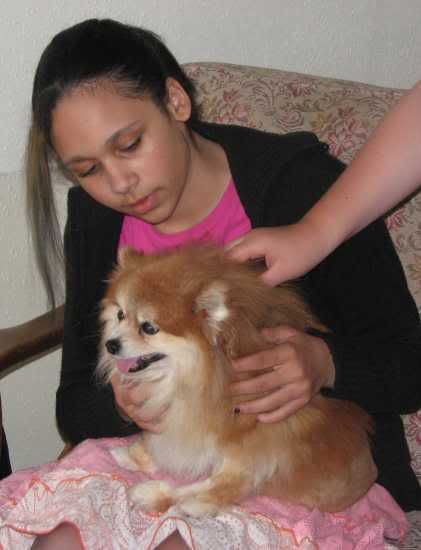 George with Emonni and the birthday boy, Adam