Our neighbor upstairs smokes a lot and instead of putting them out in a container he throws them over the side of his deck down onto ours or to the ground, which is full of leaves. These butts are often still lit, I know this because when I am on the deck I have stepped on them to put them out.
I was laying on the couch this evening at 11pm and watching TV. I was about to go to bed but luckily the Animal Planet had a good show on. I realize that our patio window is really bright and look out to see an enormous FIRE!!! It melted and burned half my rubber made tub full of fabric, for quilting, and got so hot it melted our plastic curtins through the patio window.
Now I have to go talk to the land-lady in the morning and tell her what happened. I picked up two brunt butts that we found on our deck while cleaning up, I'm taking those to her as well.
I really don't know what to do now. It looks like most of it should clean up but parts of the deck are burnt and I'm out of more than $500 worth of fabric. I'm hoping that any money from the deck repairing will come from our neighbors deposite, but I'm not sure that life is that fair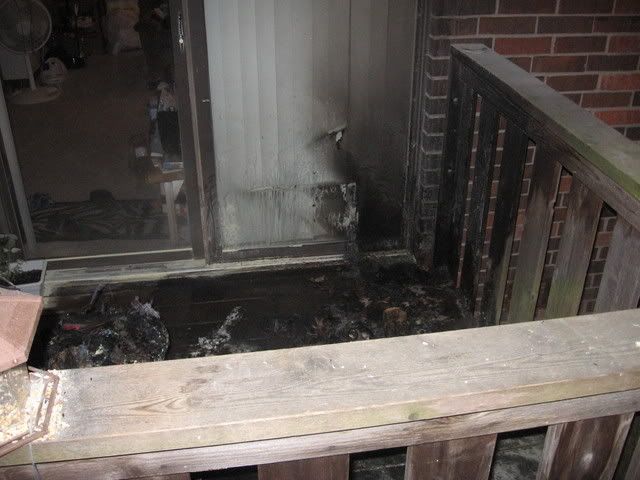 I have one more picture on the second page, and also what is being done about the whole ordeal.